business model
All-in-One integrated ICT Solutions for Chain Stores of Restaurants & Retailers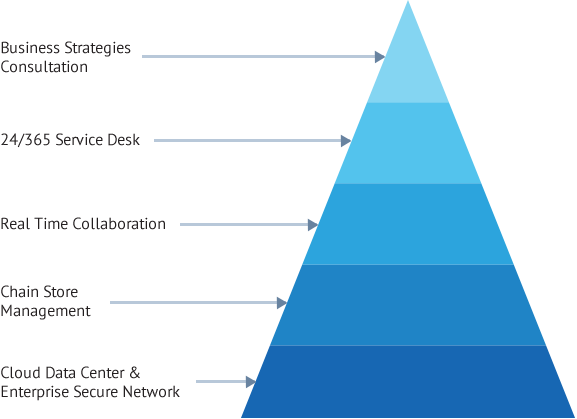 GulfNet Singapore provides all ICT functions required for Chain Store activities as the integrated and optimized platform.
As ICT infrastructure for your ICT systems, we provide Cloud Data Center & Enterprise Secure Network. As most important functions for your chain store business, we provide Chain Store Management System. As speedy & timely communication in your company, we provide real-time collaboration tools.
In addition to ICT systems as above, we provide 24/365 Service Desk, supporting for your employees' operations. And we provide Business Strategies Consulting service, supporting your business problems.
The systems & services we provide are the integrated and optimized platform for chain store business.
Once you start to use our platform, you can get all required ICT functions for your business. With no deep ICT skill, with no own maintenance, you will easily use them as your tools, so that it makes you possible to focus on your essential activities.
Our Unique Usage Fee System, named as "Mountain Model"
Common IT Investment Model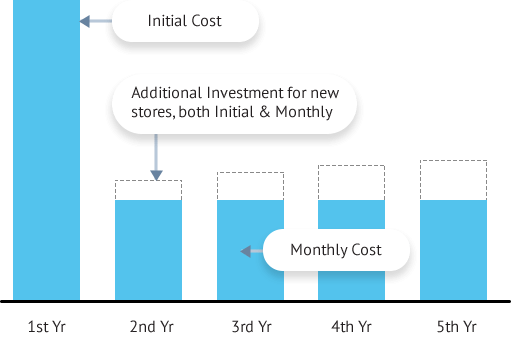 Common IT Investment Model of Mountain
The business Model of providing the ICT Solution is provided in a full package based for supporting your business strategy.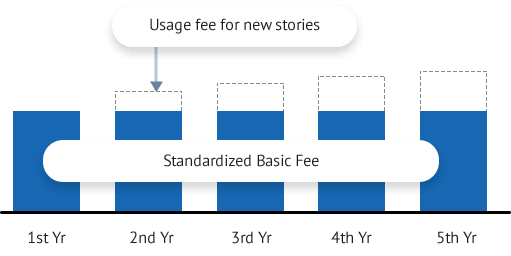 Usually, the investments on ICT consists of big initial costs & constant monthly costs. The big initial costs may prevent you from the new investments.
Our "Mountain Model" will remove such anxiety as the vast amount of initial costs. All the cost you bear is just a constant monthly usage fee. It makes you feel easy to try new ICT services.
services
Business Strategies Consultation

With over 20 years' experiences, GulfNet Singapore suggests real chain store business strategies fit your realistic business scenes. The ICT introduction financial scheme "Mountain model" is one of the results of our know-hows.

24/365 Service Desk

Amateur skills of your employees can be supported our 24/365 service desk. The trivial tasks such as PC kitting, network settings, ICT operations' education, etc. can be outsourced, so that you can focus on your main business activities.

Real Time Collaboration

Real-time collaboration is the most important business basics. You can share all the activities, problems, solutions in your company at once by our solutions. Usually collaboration tools are assumed to be used by tens of employees but GulfNet Singapore gives you the collaboration tools for thousands of employees with experiences in Japan.

Chain Store Management

We have optimized our chain store management system for over 20 years. It supports the full range of your chain store business activities. Attendance System with shift scheduling, biometrics authentication, Sales Analysis System with varieties of Business Analysis, Inventory Management & EDI System on Smartphone Apps with AI-aided optimal suggests, etc. It is the most sophisticated services in GulfNet's products through over 20 years' experiences in Japan.

Cloud Data Center & Enterprise Secure Network

We provide our private or public cloud service for your ICT activities' basics. Also, we offer our enterprise secure network service for your ICT activities' basics. The secure ICT infrastructure is the global standard necessity for your business activities. GulfNet supports even at the fundamental ICT business infrastructure.